Daily Dare 2011
From NeoDex
The Daily Dare 2011 is a gaming event that began on March 1, 2011. As with previous Daily Dare events, users are given a daily game-related task and are rewarded if they complete the challenge. Daily Dare 2011 introduced Team Challenges and Retro Challenges, and in a departure from previous years, there were only four types of trophies given out at the end of the event.
Challenges
[
edit
]
Date and Game
AAA
Abigail
Lulu (NC Challenge)
Bonus Prize
Score
Prize
Score
Prize
Score
Prize
March 1
Top Chop
1,000
Shenkuu Training School Background
325
Best Woods for Chopping
400
Top Chop Coin Shower
Pile of Wooden Planks
March 2
Crisis Courier
3,500
Altador Pillars Foreground
325
Altador Fruit on a Plate
400
Altadorian Doll House
The Yooyu
March 3
Faerie Bubbles
1,000
Faerieland Cloud Background
150
Faerie Bubbles in a Bottle
200
Faerie Bubble Foreground
Delicious Faerie Bubbles
March 4
Imperial Exam
825
Imperial Exam Desk
150
Imperial Guard Staff
200
Ink Mustache
Beginners Spelling Scroll
March 5
Ultimate Bullseye II
70
Meridellian Tower
12
King Skarl Balloon
20
Flag and Arrow Garland
I Love Turtums Mug
March 6
Snowmuncher
3,800
Snow Block Belt
475
Bloat B Gone
550
Falling Ice Block Foreground
Trapped Snow Wurm
March 7
Kou-Jong
800
Linae Shoes
90
Traditional Shenkuu Cushion
150
Glowing Hanging Lanterns
Kou-Jong Cheesecake
March 8
Faerie Cloud Racers
1,100
Delicate Mushroom Foreground
75
Faerie Cloud Meringues
100
Cloud Staff
Dream Clouds
March 9
Kookia
32,500
Kookith String Lights
20,000
Kookith Cookies
25,000
Starburst Shower
Kookith Vegan Platter
March 10
Chemistry For Beginners
400
Scientific Wig
75
Chemistry for Beginners Set
90
Fancy Lab Coat
Book of Chemical Reactions
March 11
Hannah and the Kreludor Caves
25,000
Kreludan Treasure Chest
2,000
Portable Oxygen Tank
4,000
Pink and Purple Striped Hoodie
Hannah Bobblehead
March 12
Hasee Bounce
225
Doughnutfruit Scarf
40
Jimmi and Woogy Egg Dolls
60
Teeter Totting Hasees
Model Hassee Bounce See Saw
March 13
Habitarium
Level 5
Fancy Petpetpet Tights
Level 2
Bumbluz Plushie
Level 3
Petpet Goo Blaster
Piece of a Scratchcard
March 13
Itchy Invasion
1,000
Fancy Petpetpet Tights
200
Bumbluz Plushie
N/A
N/A
Itchy Scratchy Cream
March 14
Nova Defender
700,000
Nova Gems Garland
20,000
Nova Defender Cereal
25,000
Dusk to Dawn Background
Nova
March 15
The Usul Suspects
550
Pile of Baby Bottles
45
Broom for Bratty Usuls
65
Series of Tubes Foreground
Lime Jelly Usul
March 16
Chia Bomber 2
600
Muddy Hat
25
Mud Facepaint Kit
35
Water Splash
Yellow Chia Plushie
March 17
Dueling Decks
18,000
Striped Dueling Shirt
1900
Dueling Decks Mat
65
Zenco the Magnificent Contacts
Magic Deck
March 18
Wingoball
825
Eerie Gnome Hat
250
Stack A Gnome
350
Wingoball Heart Tree
Chomby Gnome Collectable Charm
March 19
Dubloon Disaster
900
Boat Lantern
45
The Art of Avoiding Mines
65
Dorak's Boat
Skeith Chocolate Dubloon
March 20
Sutek's Tomb
3,100
Sutek's Tomb Garland
300
Wind-Up Geb
400
Lost Desert Pyramids Background
Gebmid Jellies
March 21
Trouble at the National Neopian
550
Comfortable Muumuu
200
Wind-Up Techo Thief
300
Shiny Bag of Coins
Ownow Bank
March 22
Jumpin' Gem Heist
50,000
Sandan Scarf
18,000
Heists That Jump
22,000
Jumpin Gem Heist Garland
Gummy Gem Cupcake
March 23
Wrath of the Snowager
600,000
Snowager Bobblehead
14,000
Snowager Doughnut
19,000
Snowager Arm Cuff
Snowager Ice Centerpiece
March 24
Petpet Cannonball
450
Petpet Cannonball Cannon
30
Pirate Angelpuss Plushie
40
Petpet Cannonball Skull Shower
Green Frost Cannon
March 25
Turmac Roll
750
Turmac Hat
100
Chocolate Covered Unguberry
180
Turmac Hoodie
Voidberry Pudding
March 26
Kass Basher
875
Kass Hand Sock Puppet
125
Pirate Angelpuss Plushie
220
Magical Stick of Bread
Lord Kass Scooter
March 27
Neopian Battlefield Legends
90,000
Neopian Battlefield Legends Gloves
3,200
Neopian Battlefield Legends Tarts
4,000
Battlefield Legends Armour
Battle Ready!
March 28
Goparokko
7,000
Goparokko Statue Foreground
1,000
Goparokko Crunch Cereal
1,300
Goparokko Jungle Foreground
Reject Goparokko Plushie
March 29
Extreme Herder
150
Looming Balthazar Shadow
50
Frozen Balthazar Plushie
70
Mini Petpet Plushes
Babaa Tales
March 30
Ugga Smash
500
Lava Puddle
100
Turbo Steak Meat
175
Smoke Cloud
Ugga Ugg Times
March 31
Spinacles
3,450
Smiling Spinacles Mask
450
Smiley Spinacle Ball Lollypop
600
Golden Spinacles Background
Fun Games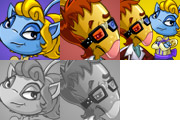 Two games were offered for the March 13 challenge. International users, as well as users who set the site to certain languages, played Itchy Invasion instead of Habitarium
Team Challenges
[
edit
]
The Team Challenge debuted in Daily Dare 2011. Every Friday, users were given the option to team up with another user to defeat either AAA or Abigail. If both users manage to beat the Daily Dare score, they receive an additional prize. Users have the weekend to complete a Team Challenge; after Sunday, they can only complete the normal Abigail or AAA challenges.
Retro Challenge Tuesdays
[
edit
]
The 2011 Daily Dare marked the first appearance of Retro Challenge Tuesdays. Every Tuesday, Lulu re-released an old NC Challenge from the 2010 Daily Dare and made it available for users to complete. To participate in Retro Challenge Tuesdays, users had to first purchase a Daily Dare NC Retro Challenge Tuesdays Game Ticket from the NC Mall for 500 NC and then activate it from their inventory. There were five retro challenges in total:
Staff Tournament
[
edit
]
The annual staff tournament, which was added as a Daily Dare activity in 2010, returned in 2011 with a brand new format. Every Friday afternoon, Neopets users were presented with two teams, each of which were composed of two Neopets staff members. Users were then asked select the team that they thought would score higher on that week's selected game. When the winning team was announced on the following Thursday, users who correctly selected the winning team were rewarded with an exclusive prize, while users that picked the wrong team received a less desirable booby prize. The staff tournament ran for four weeks in total:
Rewards
[
edit
]
The trophy categories for Daily Dare 2011 were greatly simplified from previous years. In 2010, there were 11 possible trophies; in 2011, there were only four. Users who defeated all 31 NC Challenges received no additional trophy, but were rewarded with bonus NC Mall prizes.
The end of Daily Dare marked the debut of Blumaroll, an NC Mall game that awards wearables. Every user who received a Gold, Silver, or Bronze trophy won one or two Blumaroo Dice 1-Packs, each good for a single play.
Category
Criteria
Prizes
Gold

Defeat AAA in all 31 challenges.
Daily Dare Site Theme
Blumaroll Dice 1-Pack x2
Silver

Complete all 31 challenges, defeating AAA at least once.
Daily Dare Site Theme
Blumaroll Dice 1-Pack
Bronze

Defeat Abigail in all 31 challenges.
Daily Dare Site Theme
Blumaroll Dice 1-Pack
Participation Medal

Complete at least one challenge.
Blumaroll Dice 1-Pack
NC Challenge
Defeat Lulu in all 31 challenges.
Daily Dare NC Challenge Y13 Gold Medal
NC Challenge Curtains Foreground
Lulus Y13 Shoes
Lulus Y13 Dress