Thu May 05, 2022 9:00 am
Happy
Belated
Birthday, Pickles!!
I hope you had a fantastic day!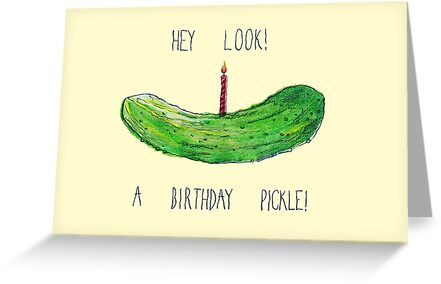 P.S. In honor of Pickles' birthday, we can now embed YouTube videos in posts

Sun May 08, 2022 1:40 pm
Happy Birthday (week), Pickles!
Here's a nice pickled drink for you:
Mon May 09, 2022 12:43 am
Thanks, y'all! That birthday pickle looks good. The drink...I suppose it depends on if it's sweet or sour or dill? ;p

Fun times with embedding Youtube videos!
Mon May 09, 2022 7:24 am
How about a Dill Pickle Martini? It's dill-icous

Ingredients:
2 cups ice
1 and ½ ounce dill pickle juice
4 and ½ ounce vodka see post above for substitutions
1 slice dill pickle for garnish

Instructions
Fill shaker with ice
Add dill pickle juice and vodka
Shake
Strain into chilled martini glass and garnish
Enjoy!