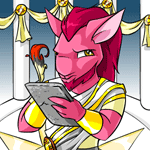 The Altador Cup Coordinating Committee's Prize Shop Subcommittee Chairman greets you as you enter the shop. "Welcome! You've come to spend your Altador Cup prize points, I take it? Well, we've got quite a selection for you here today. Feel free to look around before you decide…"
So you've completed the Altador plot and want to know what prizes are available now? Well wonder no more my Neopian friend, for below is the complete list to all the plot prizes available.
Didn't complete the Altador plot? Unfortunately you won't be able to access these prizes, but don't worry; there is always next time.
For those who are about to collect their prizes, a good tip is to keep the prizes in your Safety Deposit Box for a long time as they usually appreciate in value. Just make sure you choose a good prize and not one that everyone can get.
(more…)