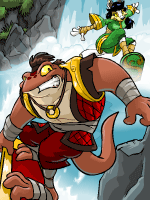 In this game, I have received a score of 1,684 points and have earned a 2nd place trophy.
The 4 most common and buyable items for this game are:
Boots of Leaping
Speed Beads
Bracers of Fury
Pack of Holding
In order to get a trophy you should get the 4 mentioned items above. You can get a trophy without these items but it will be much more difficult and the best you can hope for is 3rd place.
Stick to the Easy Tricks
What happens is that the more you do the greater the point value for that trick becomes. The 1st trick is worth 1 point, the 2nd one you can do in a row will be worth 2 point, the 3rd one you can do in a row will be worth 3 points, and so on. they are also easier to stop and land safely.

Invulnerability
Near the gate right after passing on to the second level collect the invulnerability power up and do a double jump to get to the super jump power up. Do not try to do any tricks until you have landed on top of the bridge. You will lose the invulnerability but now you can do as many tricks as you want. The max is 100 points. while doing all this push the up key to move your surfer off the bridge. Repeat this with any and all good spots in the game. The roof of the buildings will not hold you long enough to do 100 points worth of tricks but it will still give you a lot more points, so try it.
The Secret Level
The secret level between level 3 and 4 is not worth going into because you can get about the same amount of points following the normal course but if you do want to go into the secret level keep in mind that there isn't a lot of room so it's easier to lose lives in there.
The Timer
Last of all there is the of timer. After about 7 minutes there is no longer a time bonus. Between 7 and 8 minutes you will start to lose points from your score and continue to lose points until you finish the game so surf as fast as you can. – shanghai_knights