>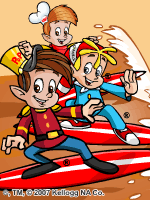 This is a very easy sponsor game about surfing starring Kellogg's Crackle and Pop. The limit of neopoints is 1000 per game, so with a little practice you can easily be making 3000nps per day. A game that earns 1000nps takes about 5 minutes. There is no Trophy available for this game, but if you want the Grand Master on your Games Table, play will be longer than 5 minutes.
This game is played using the arrow keys. When you start, choose Pop as he seems to have better balance on the surfboard. The first few times you play don't try any tricks; just practice avoiding the obstacles in the water. You will see rocks, green vines, shark fins and other various objects. If you hit one of these you will loose a life. The game gives you 3 lives and you cannot earn any more (that I'm aware of).

Your goal is to collect cereal boxes. The more boxes you collect, the darker chocolate the milk will become. The milk wave will also speed up.
Cereal box = 10 points
As you collect cereal boxes, a power bar in the upper left called SPECIAL will become brightly colored. When this happens you can earn extra points by doing tricks. I recommend using the Back Flip and the Impossible (which spins the surfboard). Use these and your points will add up very quickly!
Nose Grab: 15 points …. Up Arrow + Up Arrow Tail Grab: 15 points … Left Arrow + Left Arrow Back Flip: 30 points … Up Arrow + Left Arrow Impossible: 30 points … Left Arrow + Up Arrow
Tips
Use gentle little pushes on the Up Arrow key to keep Crackle or Pop surfing in the wave's middle section. This way you can easily go up or down to avoid obstacles.
Don't try jumping out of the water if you don't have any Special trick powers from cereal boxes. If you do, Pop will fall off the surfboard and you will loose a life.
Sometimes a cereal box is right next to a rock or other obstacle. It's best to avoid these. There will be plenty more cereal boxes later, ones out in the open and easy to grab.
A single cereal box will give you enough power for 3 to 4 Back Flips or Impossible tricks. If your Special power bar is almost empty, then don't try another trick. If the power bar goes dark during the trick, you will loose a life.
It's very easy to do several Back Flips in a row in this game, racking the points up quickly. But watch the right side of the screen for rocks and other objects near the wave's surface. If you land on them or if your board hits them, you will loose a life. Sometimes you can avoid a rock by pushing the Down Arrow, but not always.
When you have reached 1000 game points or just past that, you can stop the game: you will receive 1000 nps. However, if you want the Grand Master you will need to keep surfing on.
Snap is not available in this game. As you all know, he is hiding in Neopia somewhere and his brothers are searching for him … but then, that is a different game.
- Aquaseamage