Fiddelysquat, Lillie (Ten Snow), .neko. Atamand, ahoteinrun, ScottNak, White_Wolf and Robin.
Thank you for all the hard work you have done for PPT over the years during your time as longstanding PPT staff here as well as the wonderful memories that you gave us all.

Yoshi and Zorg.
Yoshi did an excellent work job making the fat Arrow logo back in 2004 as ahoteinrun will agree!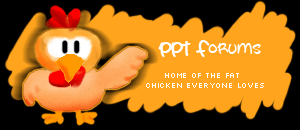 ahoteinrun wrote:
Yoshi made it... the logo was going to be changed anyways. And I personally believe that Yoshi did a very fine job indeed making the logo!

Arrow the chicken is PPTs official mascot believe it or not. Theres some weird story behidn it... that I think involves Chromefox (because I can remember her telling it)

*shrugs*
Zorg was the PPT Guys mod at the time of the 2006 Halloween Event (PPT Guys vs. PPT Divas) where the Divas had to find Guys pumpkins and vise versa. The event game was fun!

Both were great male moderators and they will sorely be missed by all PPTers alike.
May, Bangel (Dawn2), TDG, Matterbug and Nessa.
Though you 5 were only mods for a year you have been a great help to PPT with the time, effort and work that you all put in to your moderating.

To all of our former PPT staff I gotta to say.
Good luck to you all! We will miss you!