Flame wrote:
African Violets. Especially the ones with the petals that sparkle and look like sugar.

Oooh! I had one of those. Then I accidentally touched it and it died on me



So now I have a huge heap of Purple Hastas... not my favourite, but that's what I've got to work with. One can't always grow what they want to. I also think that peonies are a very nice flower.
P.S.: I think that flowers shouldn't be a girl-only subject, even if it is. I like to garden, and it shouldn't be stigmatic that girls only like flowers. There are those of us guys that like 'em too.

Co-Chair of the Sugarinii/Tasha Fan Club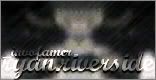 Set by my hero, DM!
FFR.
Augustine.